In Part One of our "Single-Family Rental" series, we introduced a fresh concept that has created a tremendous disruption within the residential housing market – Build to Rent Communities (B2R). Build-to-Rent is a nuance of the solidified single-family rental (SFR) asset class. Unlike the stereotypical single-family home, B2R communities provide residents with a newly constructed, free-standing homes that often feature Class-A amenities. These dynamic developments have already proven to resonate well across a plethora of demographics. This month, we will explore Build-to-Rent in greater depth by unpacking the origin, drivers to success, and consumer demographic.
Origin
Albert Einstein once said, "In the middle of difficulty lies opportunity." As noted in last month's blog, the Great Recession of 2008 left the housing market in an incredibly difficult place. Prices tanked, credit shriveled, and consumer demand and confidence all but disappeared. However, many wise investors saw the opportunity amidst the difficulty and acted swiftly. SF Rental homes proved to be a resilient residential real estate asset during that period, largely since rising foreclosures created great demand for rental homes. Since then, the market has grown increasingly competitive for affordable housing. Within the last five years, real estate investment firms such as Blackstone, Tricon American Homes, and Invitation Homes (to name a few) have snatched up sizable shares of the current housing market – resulting in dips in home ownership that we haven't seen since the 1960's. Now, thirty-five percent of renters in the U.S. rent single-family homes according to the U.S Census Bureau, and nearly all of these homes are privately owned – with institutional money occupying a meager 2% of this market. [1]
Because real estate investment firms are bursting into the SF rental space and seeking to buy as many homes as possible, there has been a drastic influx in new construction rental homes to meet the demand for renting. Thus, B2R was born. Investors have turned to developers like AHV Communities, BB Living, and Christopher Todd Communities to expand their portfolios into condensed, easy-to-manage communities rather than the geographically scattered site portfolios.
What is B2R?
Separate from the traditional renting style of an apartment, a B2R home offers a unique, maintenance-free, custom living experience that rents like an apartment but lives like a home. With four walls to call your own, and no vertical neighbors, B2R offers all the privacies, luxuries, and accommodations of a custom-built single-family home, while also providing the convenience, flexibility and amenities of a best in class multi-family. John Burns Real Estate consulting group highlights that the current renter demographic focuses on experience and amenities. Their research on B2R communities shows the features commonly offered in these homes.
While these custom home finishes give B2R a significant edge over the standard Single-Family rental home, the true distinction is found in the communities' amenities and conveniences.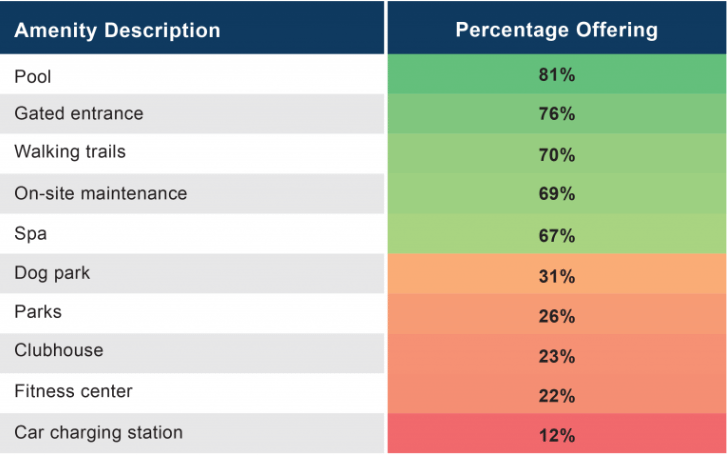 [3]
While these custom home finishes give B2R a significant edge over the standard Single-Family rental home, the true distinction is found in the communities' amenities and conveniences.
Demographic
Despite solid growth in the US Economy, home ownership rates still have not returned to pre-recessions levels. Research shows that this is for a myriad of reasons. We can see this across demographics from millennials to baby boomers.
Millennials:
– Millennials are the generation with the most student debt in history. This has held back many from mortgage loan approvals and limited housing options – until B2R presented itself.
– Because of this, millennials have chosen to appreciate amenities over ownership. With convenience, portability, and experience high on the list of millennial priorities, the full-service amenities offered in a B2R community are a dream come true.
– Half of today's millennials prefer to continue renting for as long as possible, as they enjoy travel, experience regular job changes, and seek adventure. [2]
Baby Boomers:
– Many Baby Boomers suffered at the hands of Great Recession. With depleted retirement funds and a bad taste associated with home ownership, many boomers have opted for single-family rentals. [1]
– B2R has been popular among baby boomers that, like millennials, enjoy travel and the flexibility of retirement, but still want their own home for hosting family and friends.
– 72% of today's baby boomer renters prefer to keep renting for as long as possible – seeing no reason to leave the conveniences of renting. [2]
Therein lies the beauty of B2R: The amenities and luxuries of a detached single-family home without the burden of upkeep.
B2R In Action
With the B2R movement gaining traction among investors, developers, and consumers across the U.S., Watermark is proud to be considered one of the pioneers in the space. As Mills Creek, our 66-home B2R community located in Maple Grove, MN draws to completion at the end of this year, we can speak to the proven success of the concept. Mills Creek consists of 2, 3, and 4-bedroom homes on open floorplans, catering to a variety of lifestyles. Adorned with modern farmhouse aesthetics, timeless designs, elegant finishes, and individual yards, it is a first of its kind community in the Twin Cities. To truly provide an unrivaled living experience, resort-inspired community amenities include a clubhouse with a well-appointed fireside community room and fitness center, outdoor pool, patios, fire pits, grilling stations, putting green, a dog park and an artificial grass game lawn.
As residents continue to flood the B2R space, Watermark is eager to expand Mills Creek's replicable success to the neighboring city of Plymouth, MN as well as many other markets across the United States. Looking forward, we will examine B2R trends and offer our insights as to where Build to Rent is headed in the near future and beyond. Thank you for your interest in Watermark Equity Group and stay tuned for the next installment of our Single-Family Rental Series.